Selectboard Meeting Scheduled for Tuesday, May 30, 2023 at 7 p.m. Media Room Municipal Building.
Request from Great Falls Construction
Great Falls Construction is pleased to be working in Limerick on the new Fire Station. You are encouraged to reach out to them if you have any questions. They ask however that you not enter the property for any reason without being properly escorted. To do so without consent is considered trespassing. It is an active construction site and unmonitored personnel can create a hazard to themselves and those around them. THANK YOU for your cooperation.
NOTICE

The Select Board will meet bi-monthly after the June 5th, 2023 meeting until Labor Day. Visit the Calendar to view schedule.
Vote June 13, 2023
Absentee Ballotts Available at Town Clerk's Office
* SCHOOL VOTE
School District Budget for R.S.U. No. 57, which includes the town of Limerick, will be voted on June 13, 2023 at the Municipal Building on Washington Street. The warrant for the school system is below: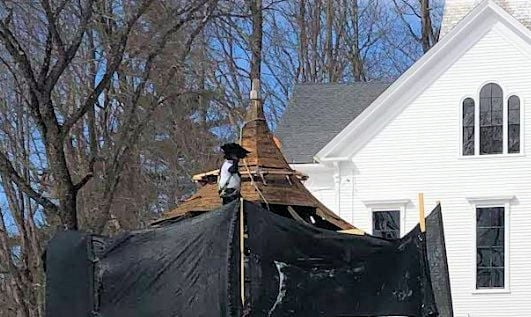 OUT
WITH
THE
OLD
IN

WITH
THE

RE-NEW-AL!
Limerick
Steeplejacks
at work. 3/10/2023
Dept of Justice on ADA @ BTH
June 9, 2022
*
Check out
Opportunities page. Your town needs YOU

Our hope is that you will find information that is

meaningful and relevant to you on our site.
If you would like to get involved and serve on a Committee, let us know!
Select Board's Meeting are on Monday at 7:00 p.m.
at the Municipal Building 55 Washington Street.
(Unless it is a Holiday, then Tuesday)
Bi Monthly in June, July and August
Join us in person or watch meetings on Spectrum Cable Channel 5
or the internet Livestream on SRC-TV.org.
Any questions for non-attendees may be emailed to
selectboardadmin@limerickme.org
Livestream Archive for Municipal Building meetings now accessed by clicking Municipal Bldg Icon at
SRC-TV.org on the internet.

Contact Us:

Office Hours:
Town Clerk/Tax Collector
Monday-Friday
9.00 a.m. - 12: noon
1:00 p.m. - 4:45 p.m.
Treasurer
Tues., & Thurs.
10:00 a.m. - 12 noon
1:30 p.m. - 5:00 p.m.
Wed.
9:00 a.m. - 12 noon
1:30 p.m. - 5:00 p.m.
Select Board Admin
Monday 1-5pm, Wednesday, Friday
10:30-3:30pm
C