IF YOU ARE EXPERIENCING ANY SNOW RELATED EMERGENCIES, PLEASE REACH OUT TO ONE OF THE SELECT BOARD MEMBERS. KATIE PROCTOR AT 806-7118, GIL HARRIS AT 806-7439, JOHN MEDICI AT 806-7005, WADE ANDREWS AT 806-7380 OR BRADY CONNORS AT BCONNORS@LIMERICKME.ORG. WE WANT TO MAKE SURE ALL CONCERNS AND ISSUES ARE ADDRESSED.
RESULTS FROM THE VOTE ON 11/7/23
The 2024 Ambulance Subscription Program sign up forms will be mailed out soon. The forms are available at the Municipal Building and the Fire Station. The deadline to sign up for the 2024 Subscription Program will be December 31, 2023. Please reach out to Vinnie Pelletier at vpelletier@limerickme.org or 205-0097 with any questions or if you need one delivered to you.

The Highland/Annex Cemetery have closed, you will still be able to walk into the cemetery. All items left on the graves will be discarded around the beginning of April 2024.
Community Solar Program Proposal for Town of Limerick
The Zoning Board of Appeals is looking to fill a vacant seat. If interested in serving, please contact the Select Board Admin at 793-4475 or email selectboardadmin@limerickme.org if interested.
Authority of Assessor to Inspect Property
Town Wide Property Revaluation
Hollandville Project Update
Dayton Sand & Gravel completed paving of Prospect Street this morning 9/23/2023.
Thanks to all involved!!!!
ACP _ Opportunity to Reduce Internet Costs
*
*****

The Hollandville Bridge Loan is in effect and drawdowns have begun. This loan will be repaid when the funds are released from the Federal Government EPA Congressional Directed Spending award for the Hollandville project. 7/31/2023
Dept of Justice on ADA @ BTH
June 9, 2022
*
Check out
Opportunities page. Your town needs YOU

Our hope is that you will find information that is

meaningful and relevant to you on our site.
If you would like to get involved and serve on a Committee, let us know!
Select Board's Meeting are on Monday at 7:00 p.m.
at the Municipal Building 55 Washington Street.
(Unless it is a Holiday, then Tuesday)
Bi Monthly in June, July and August
Join us in person or watch meetings on Spectrum Cable Channel 5
or the internet Livestream on SRC-TV.org.
Any questions for non-attendees may be emailed to
selectboardadmin@limerickme.org
Livestream Archive for Municipal Building meetings now accessed by clicking Municipal Bldg Icon at
SRC-TV.org on the internet.

Contact Us:

Office Hours:
Town Clerk/Tax Collector
Monday-Friday
9.00 a.m. - 12: noon
1:00 p.m. - 4:45 p.m.
Treasurer
Tues., & Thurs.
10:00 a.m. - 12 noon
1:30 p.m. - 5:00 p.m.
Wed.
9:00 a.m. - 12 noon
1:30 p.m. - 5:00 p.m.
Select Board Admin
Monday 1-5pm, Wednesday, Friday
10:30-3:30pm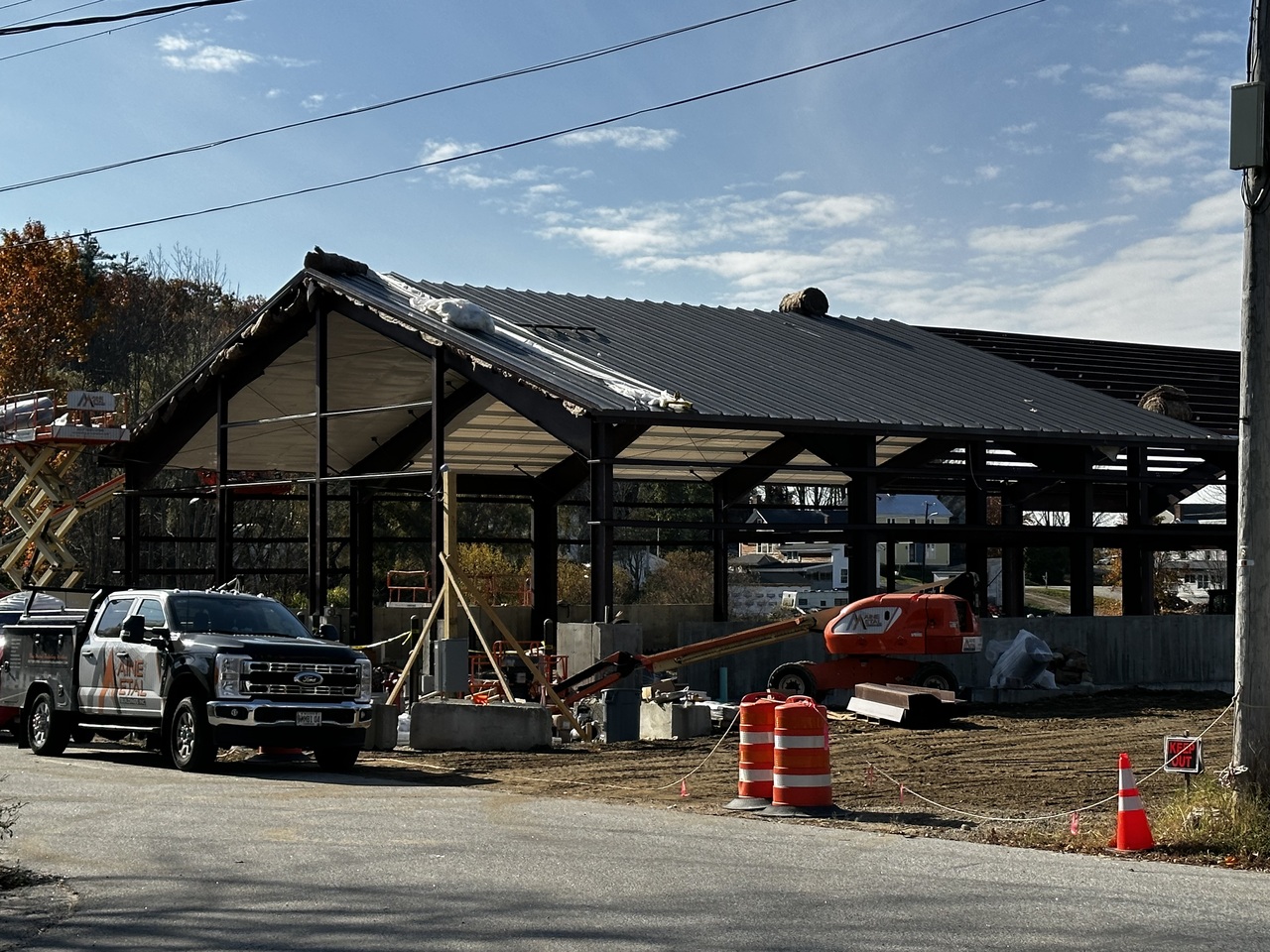 New Fire Station Update
Roof is taking shape!
11/1/2023
New Fire Station Update
Limerick's new Fire/EMS Station starting to take shape with erection of steel framing. 11/17/23
UPDATE: New Fire Station's foundation completed on 10/9/2023. Rear basement floor has been completed. Steel company representatives reviewed the site on 10/10/2023 and crew will begin process for steel installation on 10/11/2023. Cranes will appear soon to start erecting framing. Water and Sewer connections have been completed at street. Location of new fire station is on School Street.
Request from Great Falls Construction
Great Falls Construction is pleased to be working in Limerick on the new Fire Station. You are encouraged to reach out to them if you have any questions. They ask however that you not enter the property for any reason without being properly escorted. To do so without consent is considered trespassing. It is an active construction site and unmonitored personnel can create a hazard to themselves and those around them. THANK YOU for your cooperation.