Process for Updating Private Service Lines
*
Community Development Advisory Committee
November 28, 2022 the Select Board appointed the following to the CDAC who will serve as advisors to the Select Board for the execution of the Hollandville Project during 2023:
Joanne Andrews
Sean Carroll
Martha Hamilton-Smith
Gail Libby
Tony Carroll
Dean Lepage
Aaron Carroll
Michael Gilpatrick
Scott Davis
2022 Hollandville Report
H.A.R.C. Committee
Jan.11, 2023: The Maine Drinking Water Agency (DWSRF Program) reviewed and approved the drawings and bid documents for the Hollandville water and sewer project. Dirigo will advertise the RFB ASAP. The due date for the bids to be submitted at the Town Office is by February 16, 2023 at 2:00 PM.

Feb. 16, 2023: Bids were opened at 2:00 p.m. with five contractors present. Dirigo Engineering, Community Dynamics, Selectboard, W&S Trustees, and CDAC members represented at bid opening. Bids are being reviewed and will be discussed by the CDAC members to formulate a recommendation to the Selectboard for award of the bid.
Mar. 10, 2023: Senator Angus King visited Limerick to review the Hollandville and the New Fire Station projects on Friday March 10, 2023. A number of procedural issues were discussed.
Sen. King stated "Both good projects, both very needed. Water Project you can't see it, but everyone will know it. Great projects! Exactly the right projects for our Congressional Spending program."
April 11, 2023: At the Special Town Meeting on 4/11/2023 the warrant article for a bridge loan for the Hollandville Project passed. Foglio Construction will begin the water and sewer infrastructure project the week of 4/24/2023 on Wescott, Maple and Prospect streets. An informational meeting 'What to Expect During Construction' will be held in the media room at the Municipal Building, Washington Street at 7 p.m. Tuesday 4/25/2023.
The building is ADA compliant.
4/11/2023 Warrant
Article Passed 24 Yes - 4 No
Plan for Temporary Water Services – Wescott and Maple Streets
April 25, 2023 On Tuesday morning, at the intersection of Washington Street and Wescott Street, Foglio Construction will insert a tap to feed a temporary water supply line. Water will be shut off on Wescott and Maple Streets from approximately 9 am to 2 pm or until work is completed that day.
April 26, 2023 On Wednesday, Thirsty Turf, is planning on assembling the temporary water supply and will begin swapping customers over as soon as the testing is complete.
The goal is to have all preparations for the temporary water supply complete by the end of the first week of May.
Limerick Water Trustees
Anthony Carroll 207-929-0258
Aaron Carrol 207-929-0029
The Town of Limerick is partnering with the Limerick Water & Sewer District on the Hollandville Project.
May 1, 2023 - Hollandville Project Update
Notice Regarding Temporary Water Supply


Thirsty Turf will be working to swap homes to the
temporary water supply tomorrow May 2, 2023,
beginning at 8 a.m. until complete.

There will be some homes that it will be necessary
to enter to shut off water.

Additionally, if a house has a frost free faucet
installed, it will need to be modified by a technician
from Thirsty Turf to allow water to back feed from
the outside faucet into the home.

Any questions please call Aaron Carroll, W&S Trustee
at 207-929-0029
Schedule Published 4/24/2023
Subject to Change due to weather or Unforeseen Events or Circumstances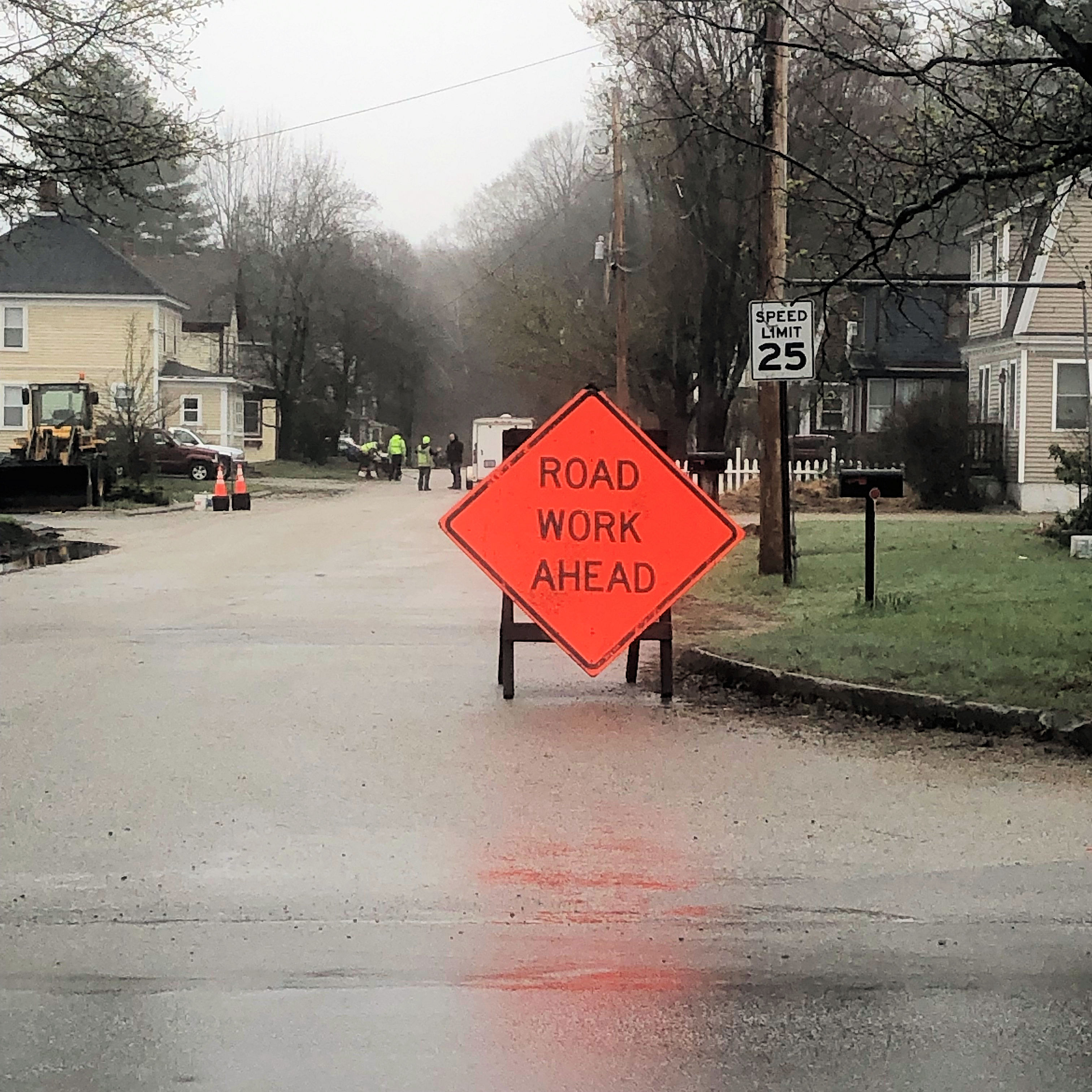 Wescott Street; Foglio Construction headquarted in Waterboro, Maine, on site. 'Road Work Ahead' signs placed on both Maple and Wescott streets 04/24/2023

April 24 - 28: Busy week with preliminary work for temporary water hook-ups. Required project signage placed.
Test for Temporary Water Supply 5/1/2023
*
Week of 5/1 - 5/5 Progress
Temporary Water line disinfected on 5/1.
Temporary water hookups began at 8 am on 5/2
Temporary Water Supply was complete on all buildings on Wescott and Maple Streets on 5/3
HDPE Pipe in in 16 foot lengths.
1 Manhole installed
165.5 ft 8" sewer main
23 ft pf 6" sewer main
1 Sewer manhole
4 buildings on Washington Street hooked up to the temporary water service.

Week of 5/8 - 5/12 Progress
280 Feet of 8" sewer main
74 feet of 6" sewer service
1 Sewer Manhole
Finished up to Lot 087